Secondary Electron Microscopy Images of Soil Samples

(c) 2023 SoilCarbonHack
SoilCarbonHack
Project Description
In cooperation with the Chair of Soil Science at the Technical University of Munich, we aim to apply data-driven methods and models of Spatial Data Science to NanoSIMS data in an interdisciplinary way through new spatial algorithms and data structures, software and infrastructures, in order to gain innovative insights into scientifically and societal significant storage mechanisms of organic carbon in soils. Through relevant participation of early-career scientists in the project team, a hackathon, and a methods workshop, we aim in particular to contribute to the perpetuated application in the scientific community.

Background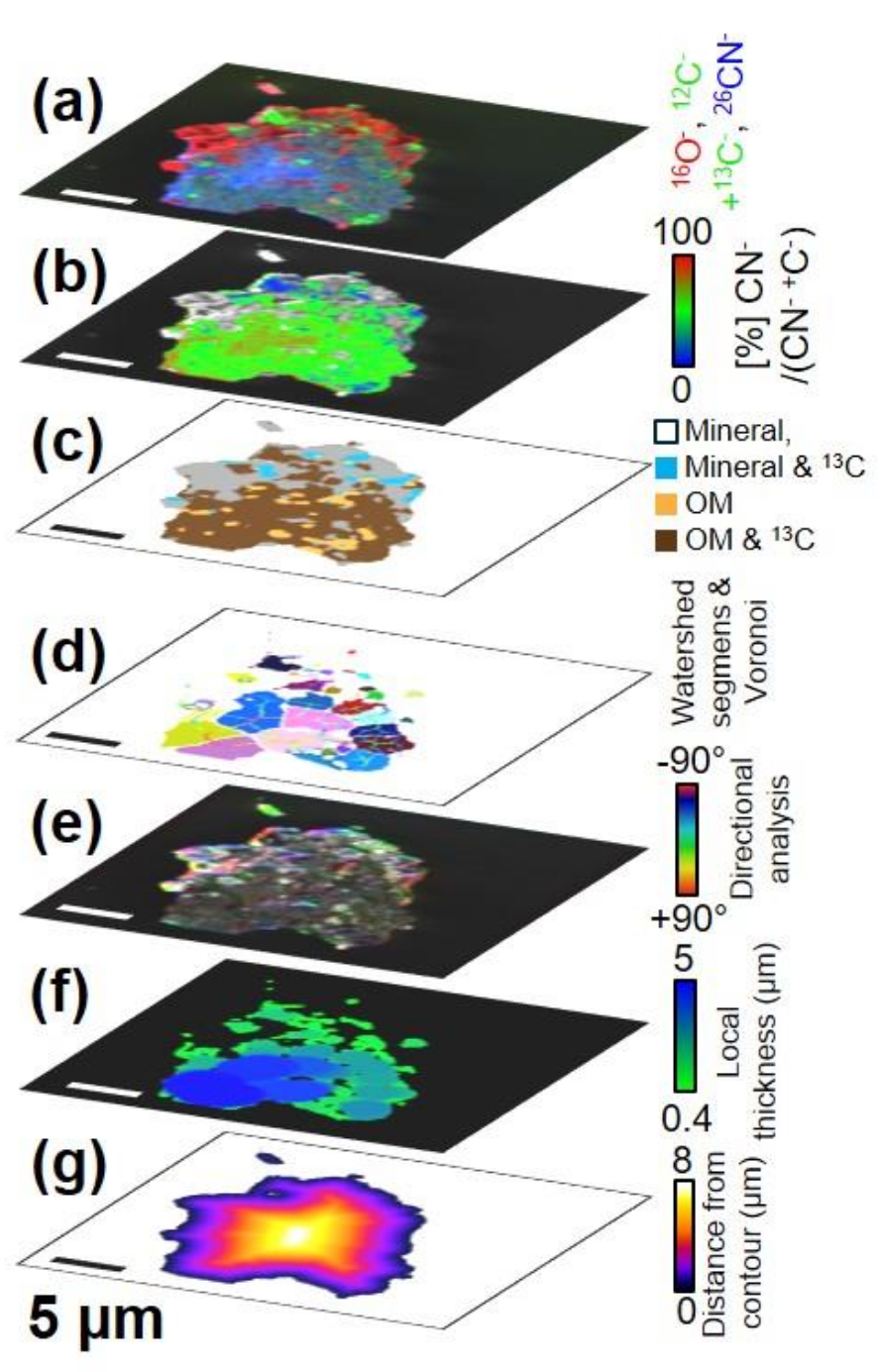 Our knowledge on the storage of organic carbon in soils has changed drastically after discovering that the spatial arrangement in soil microstructures and mineral binding partners can contribute to carbon storage. However, an overarching understanding of the extent to which the spatial arrangement of soil microstructures causes locally different turnover of carbon and how much this affects soil fertility indifferent ecosystems lags behind the wealth of data from new spectromicroscopic analyses. With the help of a nano-scale secondary ion mass spectrometer (NanoSIMS), the Chair of Soil Science at the Technical University of Munich has been able to gain novel insights and individual findings on the importance of the complex biogeochemical arrangement of soil microstructures for the turnover of organic carbon.
In order to develop a understanding across ecosystems, novel methods and data tools are needed to enable the identification of functionally connected spatial patterns and their importance for carbon dynamics. A development and adaptation of spatial data mining methods, as already widely applied within remote sensing, will enable sustainable impulses of data science in the field of soil science.
---
SoilCarbonHack(athon)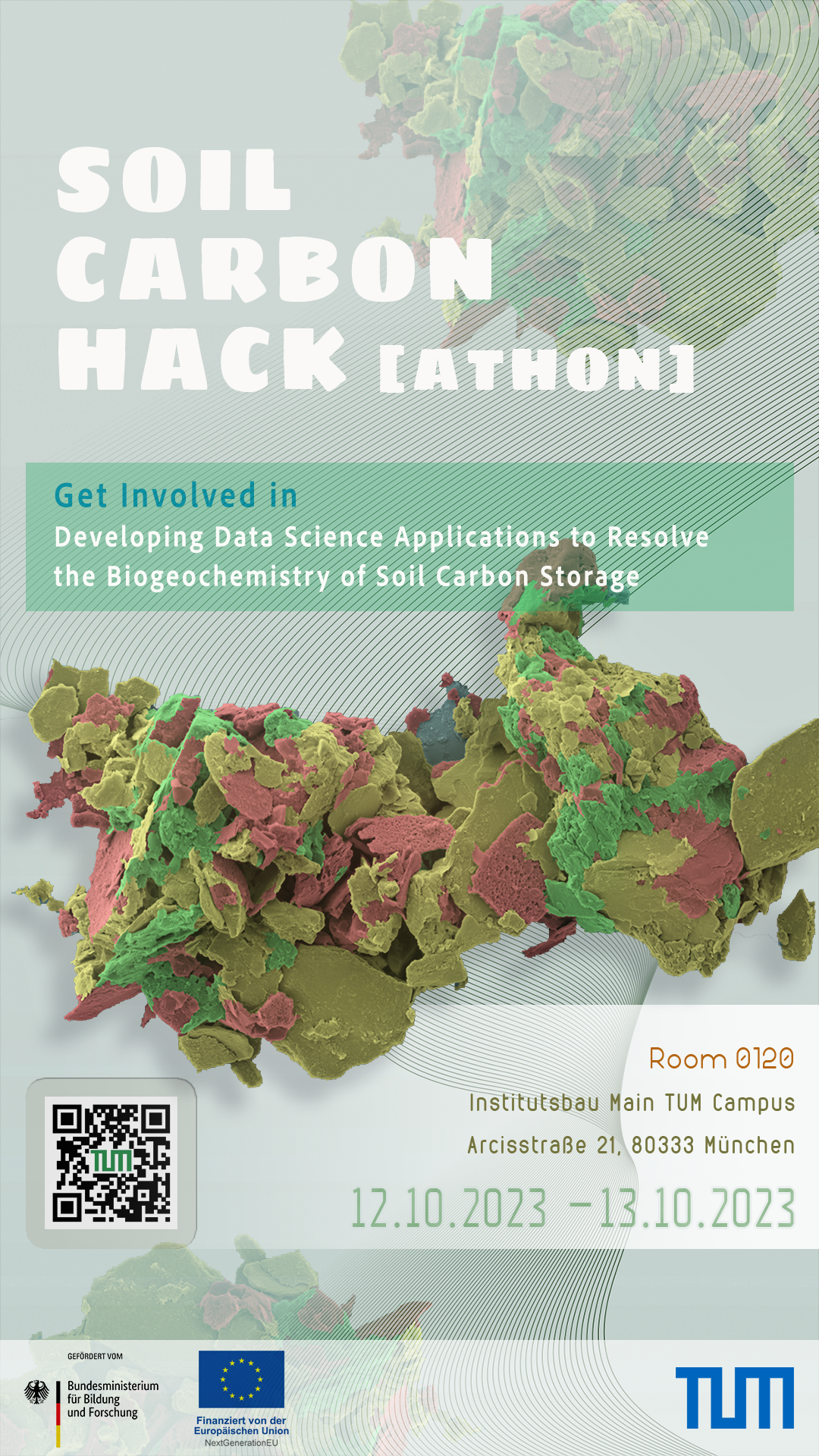 To register for the event, please fill in the registration form: here.
FAQ:
How to participate?
Participation is free of charge and possible for everyone interested, independent of their background. Registration is possible via the registration form.
What experiences and knowledge is necessary to participate?
We encourage everyone, independent of their background, to participate. Microscale image analysis to gain novel insights into carbon storage mechanisms is a complex task, and to find new approaches and solutions, a diverse set of skills is needed. Also, we will give necessary background knowledge during several keynotes and hands-on tutorials to prepare for the challenge on the second day. During the event, try to form teams that include people from different fields, but also make sure that there are coders in your team for the programming parts.
What do I have to bring?
You must bring your laptops, but we will provide computing resources you can access remotely.
What will be provided?
We will provide lunch and drinks during the event, and participants will receive a certificate of participation at the end of the event. Additionally, there will be an award for the winning group of the competition on the second day.
Preliminary Agenda:
12.10.2023
| Time | Topic |
| --- | --- |
| 10:00 | Welcome and "Get to know" |
| 10:30 | Keynotes: Dr. S Schweizer (Soil Science), Dr. C Höschen (NanoSIMS System Control) |
| 12:00 | Lunch |
| 13:00 | Introduction to NanoSIMS Data and Processing |
| 15:00 | Microscale Image Analysis |
| 18:00 | Reception |
13.10.2023
| Time | Topic |
| --- | --- |
| 10:00 | Keynote: Prof. Dr. M Werner (Big Geospatial Data Management) |
| 11:00 | Introduction and Hands-On for Microscale Image Clustering Competition |
| 12:00 | Lunch |
| 13:00 | Clustering Competition |
| 17:00 | Discussion of Results |
| 18:00 | Closing |
Location:
Room 0120 in 0501 Institutsbau
Technical University of Munich
Arcisstraße 21
80333 München
---
Johann Maximilian Zollner
maximilian.zollner@tum.de
Professorship of Big Geospatial Data Management
Lise-Meitner-Str. 9
85521 Ottobrunn

Yahan Hu
yahan.hu@tum.de
Chair of Soil Science
Emil-Ramann-Straße 2
85354 Freising